Weiser Touchpad Keyless Deadbolt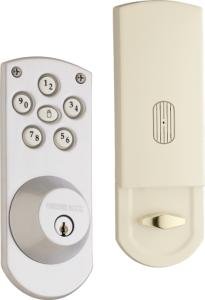 Easy to Use
• Fast, easy entry during bad weather.
• The easy touch keypad makes entry quick and safe when it's dark.
• One push of a button as you exit will secure your door from outside.
Easy To Program
• You choose your own secret personal code consisting of 4 to 8 digits.
• Your secret personal code can be changed easily, as often as you desire.
• Weiser Lock Tip: Not all criminals are stupid – a four digit code used over years may become soiled. Once the 4 digits are obvious it only leaves a possible 24 combinations. Therefore Weiser Lock recommends a 6 – 8 digit code for further security. It is also recommended to change your code once a year.
• If 3 wrong codes are entered in a row a buzzer will sound for 15 seconds and the system shuts down to discourage further guessing.